The Kona County Farm Bureau sponsors the Keauhou Farmers Market in order to support agriculture in Hawaii. If you are interested in becoming a vendor, please fill out the vendor application form.
We grow and sell fresh gourmet lettuce, watercress, arugula, kale, herbs, other vegetables and tropical fruits. We do not use GMO seeds or chemical pesticides.
Paul and Phissamai Troy | Captain Cook, HI
alohifarm@gmail.com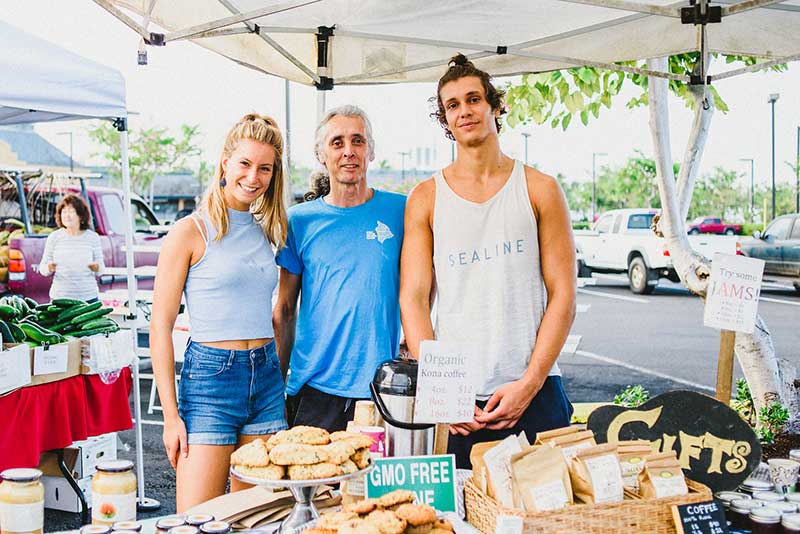 Our diversified and certified organic family farm is about growing and making what we need from the land! At the market we offer 100% Kona coffee, fruits including avocados, lulos, oranges, papayas, etc., and vegetables that include taro, tropical greens, and tropical (kilimanjaro) basil, as well as jams from our fruits and baked goods with our fruit – passionfruit scones and muffins. Share and enjoy the freshness and bounty of our abundant (kanalani) family (ohana) farm. Visit Kanalani Farm for more information.
Colehour & Melanie Bondera
PO Box 861, Honaunau, HI 96726
808-640-1643
colemel2@gmail.com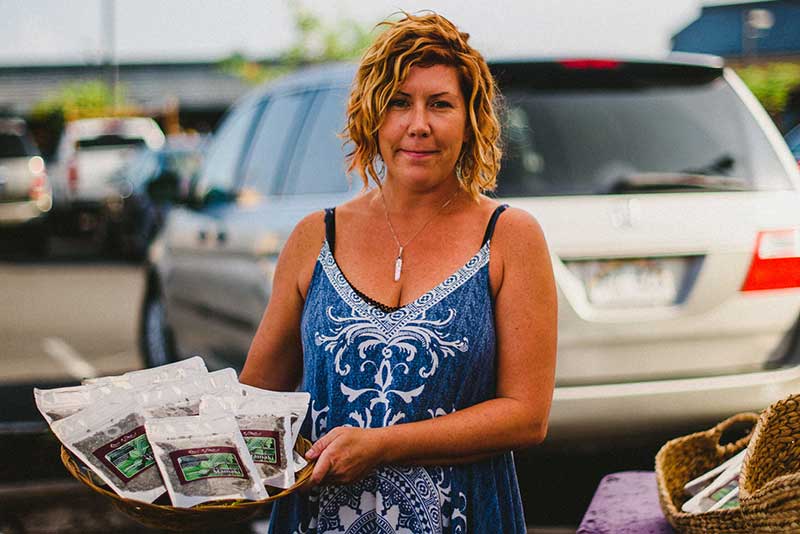 Hawaiian Mamaki tea, locally grown, mamaki iced tea; Hawaiian medicinals.
Nataliya Dmitrieva
P.O. Box 1118 Captain Cook, HI 96704
808-896-7533
Kona Community Gardens harvest 30+ farms across Kona providing a market for farmers to sell their produce to the community. We work with only farmers that use organic methods to grow their food.
Ashley Gonsalves
89-1368 Mamalahoa Hwy., Captain Cook, HI 96704
808-430-3224 or 707-494-9546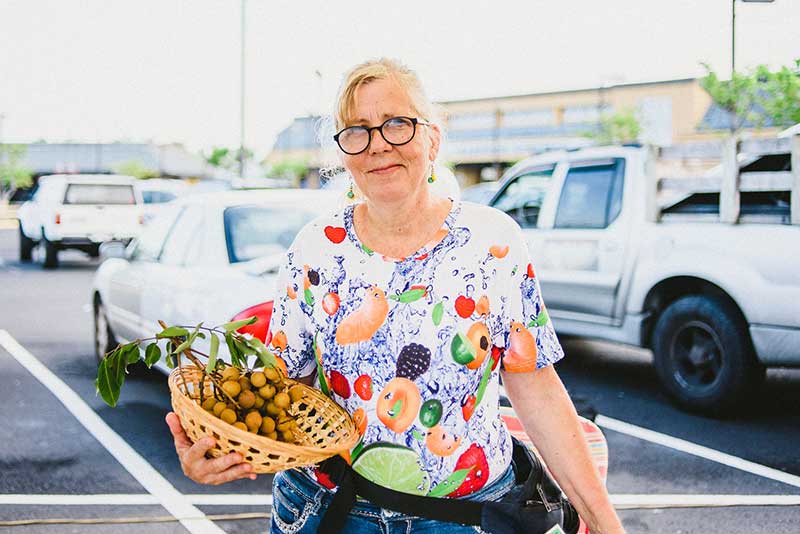 A large variety of tropical and unusual fruits, jams, jellies, pickles, gluten free breads and desserts
Ken and Margy Love
PO Box 1242, Captain Cook, HI 96704
808 323-2417
ken@mycoffee.net
Flavored macadamia nuts, macadamia nut butter, macadamia nut brittle and and farm made tropical ice creams. Visit our website, Ohana Farm Orchards, for more information.
John Giblin
87-2814 Mamalahoa Highway, Captain Cook, HI 96704
808-328-0239, cell 408-507-9947
Jgiblinjr@aol.com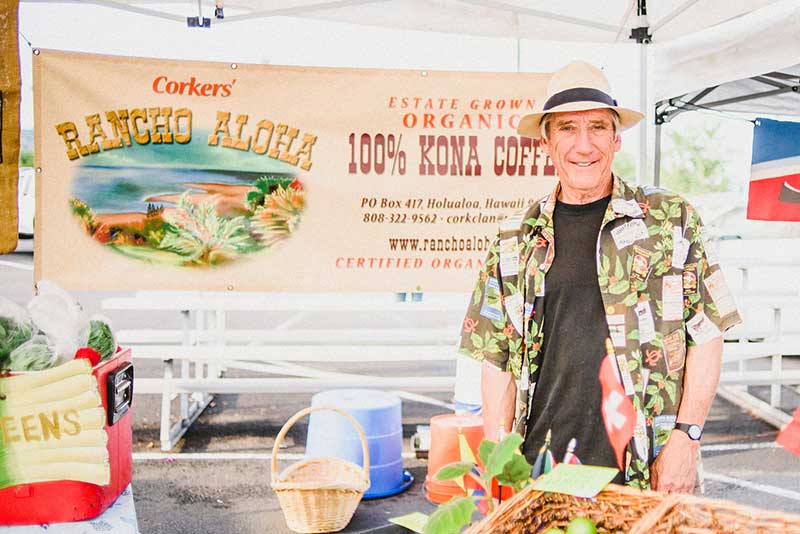 Certified organic 100% Kona Coffee, fruits. More information can be found on our website, Rancho Aloha.
Lisa and Bruce Corker
75-5760 Mamalahoa Highway, Holualoa, HI 96725
808 322-9562
coffee@ranchoaloha.com
Variety of lettuces, European and Asian greens,other vegetables, herbs, seedlings, edible flowers, plants and fruits. I use a variety of practices chosen from organic and natural farming, and personal research and experience - the goal being healthy and sustainable food production.
Stefanie Delmont
bluejourny@aol.com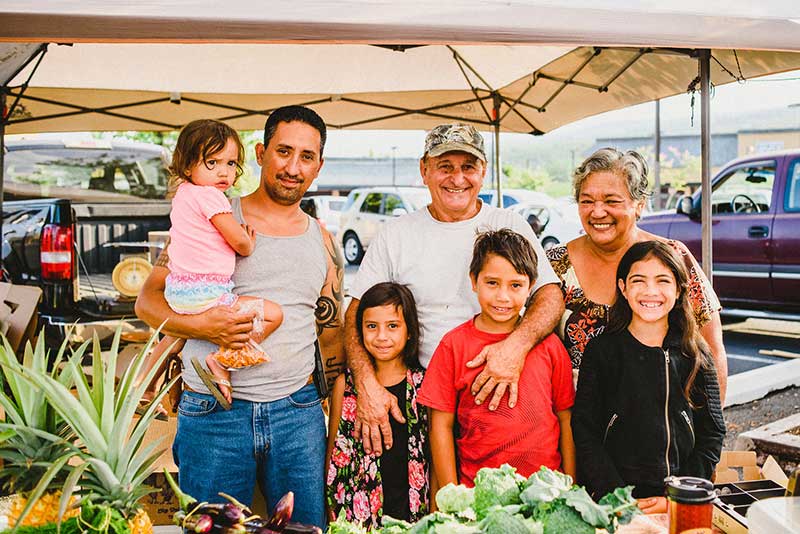 Fresh fruits and vegetables.
Steve and Maxi Dias
PO Box 15, Paauilo, HI 96776
808 776-1606 | maxianndias@aol.com
Fresh flowers and vegetables.
Sheila and Ashley Goo
PO Box 113 Kamuela, HI 96743 | 808-885-4385
aj.goo@hotmail.com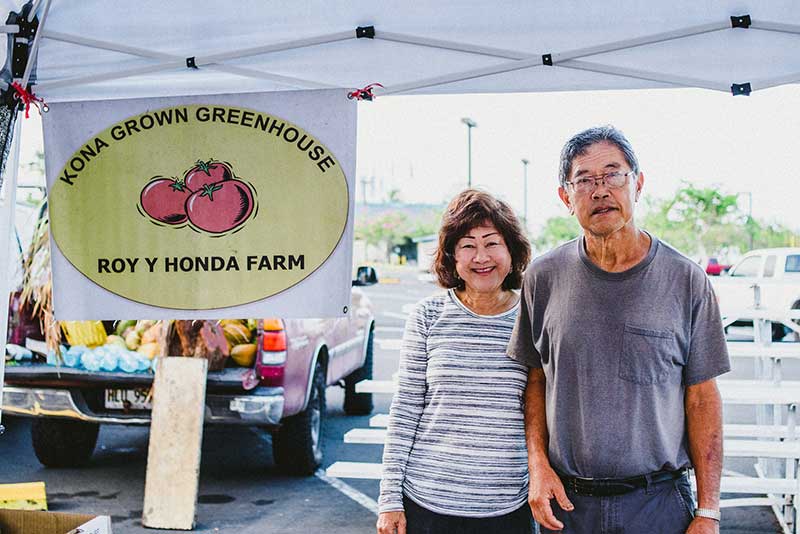 Tomatoes, cucumbers, fruits and other vegetables.
Roy Y. Honda and Jean Kadooka
83-5383 Mamalahoa Hwy., Capt. Cook, HI 96704
808 328-9188
royhonda@hawaiiantel.net
Single-Estate, 100% Kona Coffee
Jean and Danielle Orlowski control every stage of the coffee process with boundless passion and exceptional attention to detail. They are proud to sell the finest Kona coffee available. USDA-certified organic, direct from their fields in the sunny hills of Hawaii.
Jacobs Ladder Heavenly Honey
Christmas Berry Honey, Bee Bread, Bees Wax.
Jacob Satterwhite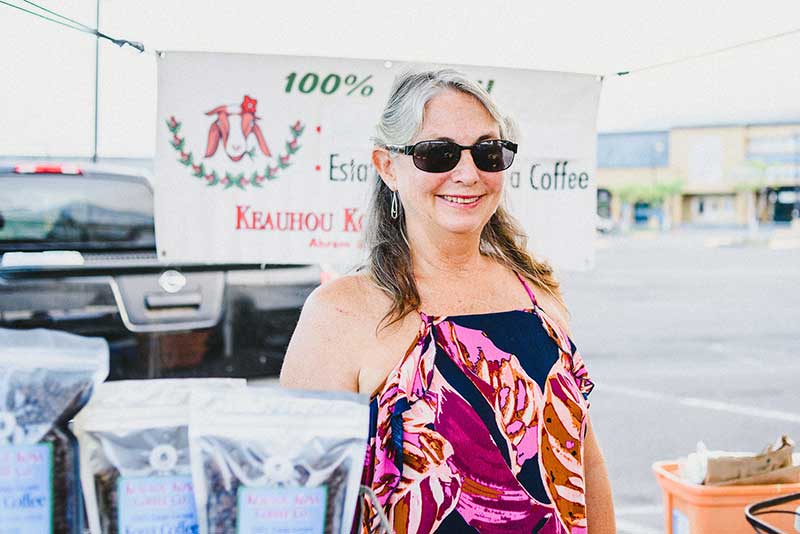 100% Kona Coffee, jams, and jellies.
Jenine and Abram Boido
78-6853A Palekana Rd., Holualoa, HI 96725
808 322-9033
konacoffee4@hawaiiantel.net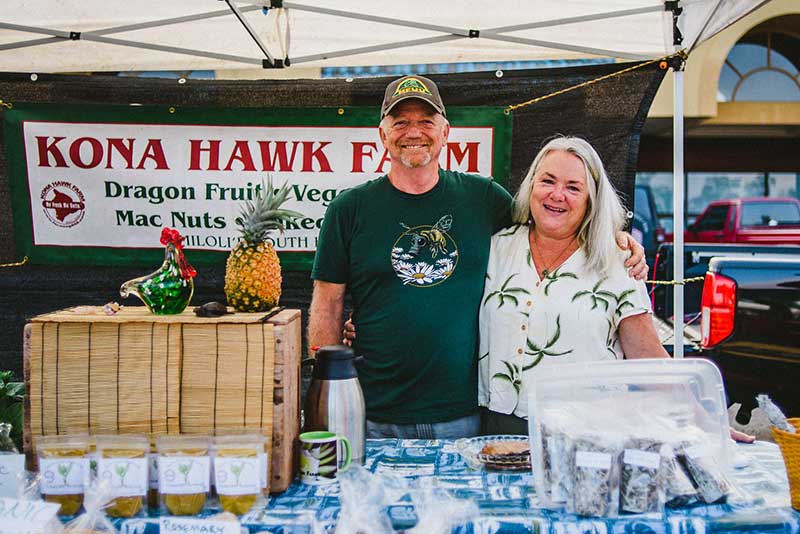 Macadamia nuts, avocados, fruit, baked goods, greens and fresh herbs. Visit Kona Hawk Farms for more information.
Doug and Sabina Pittman
P.O. Box 225, Honaunau, HI 96726
Fine quality baking since 1993.
Kamuela, HI
808-885-7441
Market fresh smoothies and homemade granola. Offering fresh and super healthy food for the community with organic ingredients straight from the farmers market.
Lauren Degnan
Kailua-Kona
seedtosowhawaii@gmail.com